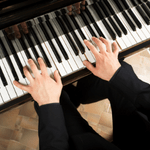 Position Open
Minister of Music
Grace United Church of Christ in Northampton, PA is seeking a part-time Minister of Music to continue our long tradition of musical excellence during worship services. Proficiency playing pipe organ (1995 two manual Schantz organ) and piano is required. Competence in choral conducting skills is also desired to lead a small adult choir and a bell choir (choirs are in session September through May). Additional responsibilities include maintaining music library for the church and scheduling and supervising the maintenance of the organ and piano. This year-round position reports to the Pastor and church Consistory. Benefits include some paid time off. Salary is negotiable depending on level of experience ($12,000 to $15,000).
Please submit letter of interest and resume to Rev. Michael McGowan, digitally to revgraceucc@rcn.com or via U.S. mail to Rev. Michael McGowan, Grace United Church of Christ, 902 Lincoln Ave., Northampton, PA, 18067.
The Pride of Grace
The first sounds you'll hear when you step through Grace's doors are ones of joy-filled music. Members are extremely proud of our music programs that are led by our Minister of Music, Steve Myers. Between the masterfully-played organ notes and our exuberant choir and bell choir, Grace is blessed with uplifting music during every worship service.
Traditional & Contemporary
While traditional hymns are a big part of our services, every now and then Grace likes to shake things up and incorporate different types of contemporary music. For example, this past summer Pastor Mike did a six-week series where his sermons centered on the teachings of the Beatles. Of course, how can you preach on the Beatles without playing some of their songs!
Grace's Favorite Hymns
After polling the congregation, it was revealed that these are Grace's favorite Christmas hymns:
1. O Come, All Ye Faithful
2. Silent Night
3. Hark the Herald Angels Sing
4. It Came, Upon a Midnight Clear
5. Joy to the World