Emery helps count items for the Personal Hygiene kits. The kits are made from donations by members of the congregation. The kits are assembled and distributed to those in need of these items.
Reverand Heather and Sandy with a group of youth from the church go picking Blueberries to assist a local Grower pick his crop for sale. What an ingenious way to reach out and be helpful!

Our Outreach Committee offers aid to individuals in our church, immediate community, and the world who are experiencing extraordinary hardships. They also send cards to our shut-ins and assist with Special Mission Projects such as Operation Christmas Child and help provide transportation to church members that cannot drive.
Here is the group of volunteers that helped take all of the mac n' cheese bowls, spam and other canned goods to the New Bethany Ministries.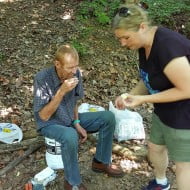 Reverend Heather reaches out to the homeless community with Holy Communion and needed supplies.
The reverend makes regular trips with much need supplies, donated by the congregation and neighboring community, to assist the members of God's community that struggle with homelessness.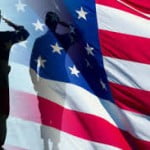 Grace UCC hosts a Veteran's Day Service for Veterans and Active Duty Servicemen. After the Service the Vets and Servicemen are treated to a free meal at the Church's Annual Spaghetti Dinner.
Volunteer members of Grace UCC help to prepare and serve meals at the Christ UCC soup kitchen in Bethlehem.