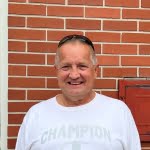 Gary Henry
Group Leader
Gary has been involved with leading Grace's Adult Sunday School for several years, originally assisting the previous leader before transitioning into the role himself about five years ago. He loves the fellowship of the group and finds fulfillment in taking a deeper dive into each Sunday's scripture.
What is Adult Sunday School?
Adult Sunday School is a discussion group that meets once a week to reflect on what it means to be a modern-day Christian and how the scripture still speaks today. Members share what's happening in their lives and the church before listening to the scripture reading and having an open conversation about their thoughts on the passage.
Curriculum
Grace's Adult Sunday School uses the lectionary-based resource Seasons of the Spirt to center its reflections. The material provides a responsible and creative contemporary understanding of Christian teachings and explores how we can authentically live our faith in a diverse and rapidly-changing world.
Meeting Information
Adult Sunday School gathers in Fellowship Hall at 9am on Sunday mornings (Sept-May) before worship. Meetings typically last 45-60 minutes. Afterwards, members occasionally enjoy light refreshments and each others' company before attending the 10:30am worship service.
Everyone is welcome! It doesn't matter if you stop by one meeting to check it out or are interested in becoming a regular member. We'd love to have your company and hear your thoughts.